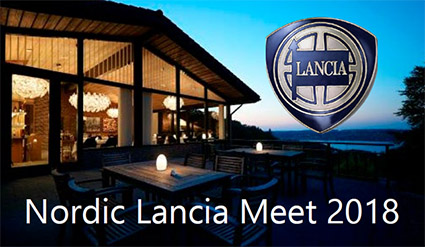 For registration – please follow THIS LINK NLM registration ! PLEASE NOTE: THE AUTOMATIC "SEND EMAIL" FUNCTION ONLY WORKS WITH MICROSOFT EXPLORER BROWSER. If you are using Edge, Chrome or Firefox – please print a copy, fill it out, scan it and send it by mail to dlr@lanciaklub.dk (Or normal post to: Dansk Lancia Register c/o Jørgen Turking. Nørrevej 1. DK 4621 Gadstrup. Denmark )  
The 15th Nordic Lancia Meeting will take place from 8th to 10th June 2018 near Vejle on the east coast of the Danish mainland. We have booked the Munkebjerg Hotel situated in a beech forest with fine views of the Vejle Fjord. The hotel is an architectural gem offering very good service and high quality furnishings. It lies at the top of a hill which once a year is used for a historic hill climb. The surrounding countryside is undulating with many quaint, hidden roads and sights. Ideal for Lancia driving.
Programme:
Friday 8th June. Arrival during the afternoon. Dinner
Saturday 9th June. Scenic tour to the burial place of the viking king Gorm, father of Harold Bluetooth and grandfather of Swein Forkbeard, the conquerer of England and father of Canute. There are two big burial mounds, two big runic stones and a fine, new museum explaining the history of the viking kingdoms. The museum is on the UNESCO World Heritage list. Lunch in an old water mill.
Gala dinner
Sunday 10th June. Morning drive to another attraction. Lunch and farewell.
Price: 2,450 DKK (330 Euro) per person in a shared double room.  3.150 (425 Euro) in a single room. Children under 12 in parents´ room: 1,000 DKK (135 Euro)
The price includes all meals, but not beverages, from Friday evening to Sunday lunch.
All contact: aurelia@webspeed.dk or Niels Jonassen, Boserupvej 510, DK-3050 Humlebæk, Denmark